2021 Mercedes-AMG GLE 63S – Don't Judge a Book by Its Cover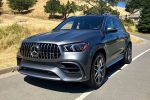 The old saying 'Don't judge a book by its cover' has never applied more accurately than it does to the 2021 Mercedes-AMG GLE 63 S. At first glance this beauty appears to be just another large luxury SUV, which means it will haul lots of kids and cargo in style, but typically doesn't have the handling or speed of anything you would call a 'performance' vehicle… But in this case, you would be quite wrong. The GLE 63 S deserves every letter of its AMG moniker, delivering a brutish 603 horsepower and 627 lb-ft of torque from its grunty 4 liter 'biturbo'-charged V8. There's even a little F1 tech with the EQ Boost integrated with the starter motor, which adds 21 hp and 184 pound-feet of torque in electric power when you mash the pedal and then recovers its juice back when you brake. Does all this sound fast to you? How about hitting 0 – 60 mph in a blistering 3.7 seconds. The harder I drove the 63 S, the more it hunkered down and rocketed ahead with bombastic speed, howling a sweet symphony through its performance exhaust.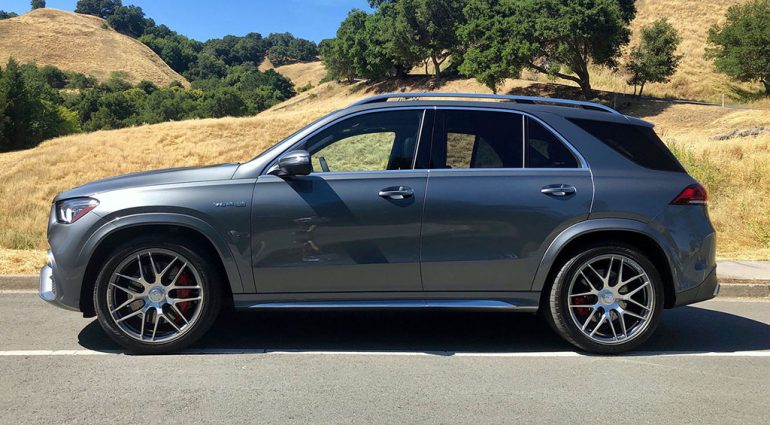 All that power is complimented by an incredibly smart chassis featuring 4Matic + all-wheel drive, active ride control, dynamic motor mounts and an adaptive damping suspension. It's obvious that Mercedes spend considerable effort engineering a ride that is firm yet not punishing. These systems work in harmony to fool your mind in two ways: First, the vehicle feels like it weighs half of its actual number, and secondly, the AMG GLE goes around corners more like an AMG GT.
Our Selenite Grey test vehicle has a base MSRP of $113,950, but it also came loaded with a host of options and packages that brought the already formidable standard technology and luxury to an even higher level: MBUX (Mercedes-Benz User Experience) Technology Package included a very cool video navigation system and Head Up display, Panorama roof, Burmeister Surround Sound, Acoustic Comfort Package, and my children's favorite of all: the Energizing Comfort Package, which offered heated massage front seats and an Air Balance cabin fragrance system. If anything isn't to your liking, simply say, "Hey Mercedes" and your personal voice assistant will make things right. Yes, it's truly a tough life in the AMG GLE. One notable safety package is Drivers Assistance which comes bundles with Lane Keeping, Lane Change, Driving Distance, Steering and Emergency Braking/ Stopping Assistance. Unlike other manufacturer's safety assistance systems that can quickly annoy you with overactive steering wheel shutters and constant beeping, the Mercedes unit seems to work in harmony and remains stealthily in the background until actually needed.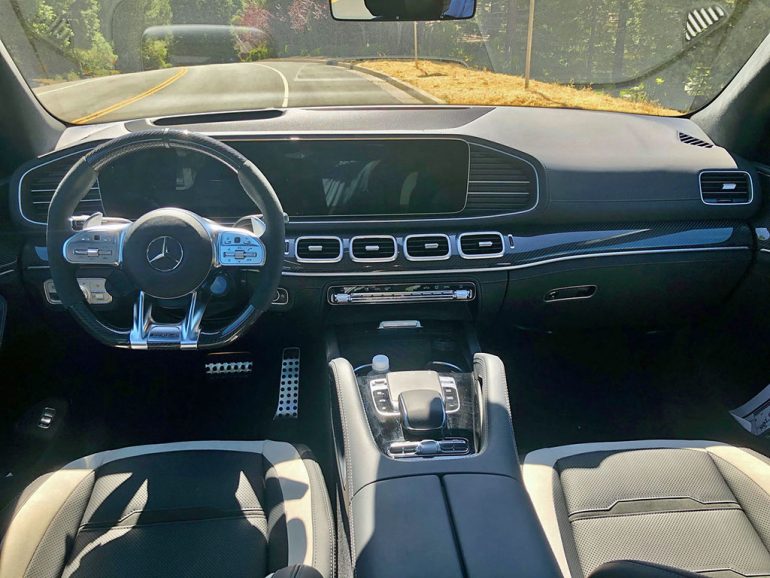 This 63 S also came with some nice cosmetic exterior options, including upgraded 22" cross spoke wheels, black accents, and carbon fiber trim. On the inside we have a beautiful AMG steering wheel bathed in carbon fiber and Dynamica microfiber, and a pop of color from the silver seatbelts. All of these options do come at a cost, as our vehicle sticker price was just a hair below $132k. No, the Mercedes AMG GLE 63 S isn't cheap, but is it worth it? Well, we have extreme power, sophistication, and a ridiculous level of luxury and technology wrapped in a very versatile and stylish high-performance SUV. Sign me up…